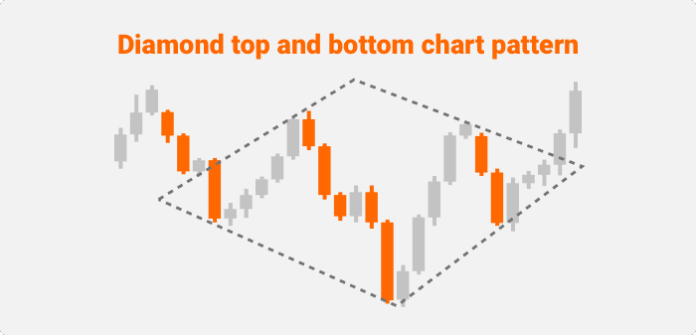 Estimated reading time:
1 min
The Diamond formation, also known as a Diamond Top, is a relatively rare chart pattern formation.
When a Diamond Top forms, it forms at the conclusion of a long uptrend in price, and it indicates an imminent reversal of the trend.
There is an uptrend leading to the Diamond Top formation and this pattern looks like a diamond that is leaning to one side.
In the first "half" of the Diamond, the price creates higher highs and lower lows forming a broadening triangle. In the second "half", it closes up.
A Diamond Top formation generates a very strong sell signal since it's screaming "Market Top!"
Traders recognize a diamond formation by first recognizing a Head and Shoulders pattern (a peak and trough, followed by a higher peak and another trough, followed by a peak somewhere below the level of the previous peak).
Four trendlines are drawn: one (ascending) from the first peak to the second peak, one (descending) from the second peak to the third peak, one (ascending) from the second trough to the low of the third peak, and one (descending) from the first trough to the second trough.
The four lines altogether form a rough diamond shape, giving the chart its name.
The Diamond Top forms an overall descending trend channel, allowing traders to determine levels of support and resistance for the asset's price as it enters a downtrend or a momentary reversal.
However, if the lower support line of the channel is broken, traders consider it likely that asset prices will reverse and begin to climb again.
---
If this article seems useful to your then please click the like button below. You can also share your valuable feedback or ask questions in the below comment section. Also, subscribe to our newsletter for trading-related updates.
---