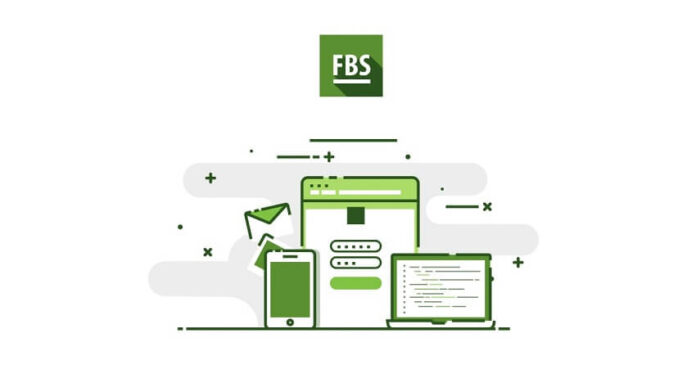 Estimated reading time:
2 min
FBS Client Cabinet also known as FBS Member Area is the place where you can control everything related to your trading activities. In today's article, we get some ideas about what the FBS Member Area offers and what you can do by accessing it. So, let's get started!
First of all, make sure you have already registered a trading account. If you do not have an account please complete the registration first and then proceed to your client cabinet. If you want to know the exact methods of registering a trading account please refer FBS Registration article first. It will guide you on how to do it properly.
If you have a trading account then you need to log in to the FBS Member Area by accessing this link with your registered email address. Or just visit the broker's official website www.fbs.com
if you are on the broker's website then please check there is a button called "Login" Click this link and try to log in by using your registered email ID and passkey.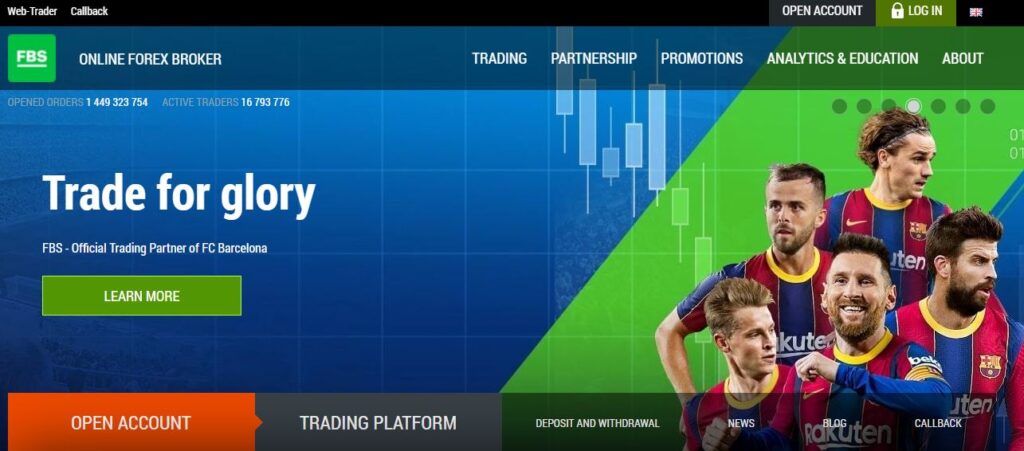 Or just simply click this link https://fbs.com/cabinet/login and you have been redirected to the FBS Client Cabinet.
Now you have successfully logged in to the cabinet and you will see everything that the broker offers for trading. We will discuss in brief those features right after.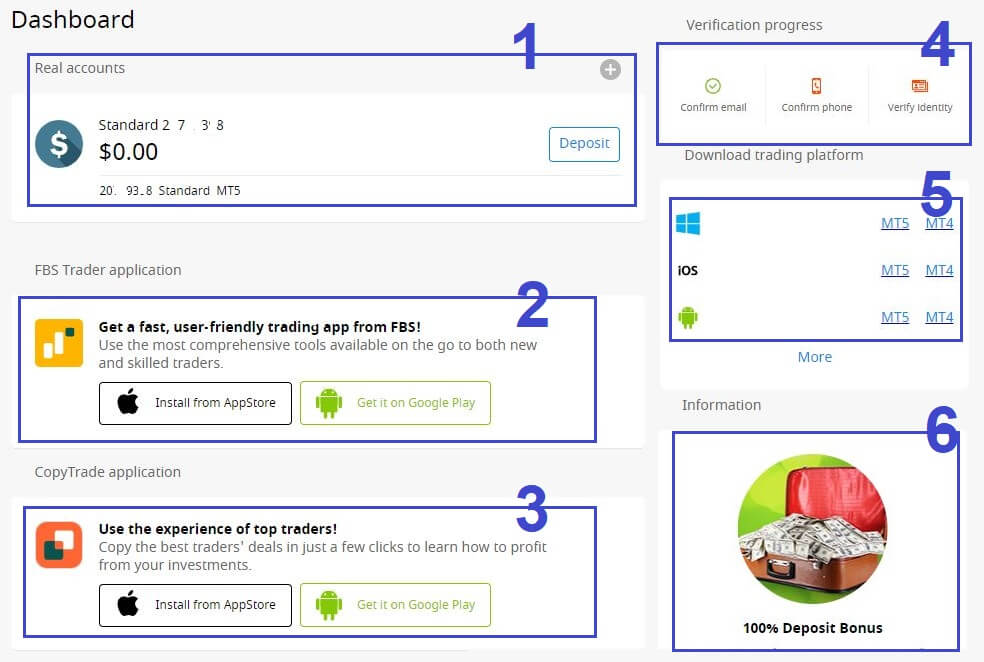 Here, we have added a quick view of your account dashboard. For better understanding, we have divided it into 6 different sections.
All of your trading account information will be there. If you have multiple trading accounts then you will see the lists.
FBS Broker offers mobile trading apps for smartphone users. You can download and use it as your cabinet. Download your preferred app by clicking the mentioned button in this section.
FBS Broker offers Copy trading for general investors where you can follow experienced traders and they will trade on your behalf. You can download this copy trading app in this section.
Here is the verification checkmark that you need to complete. If your account is fully verified then this portion may not be available. Until then you can check your verification status and can click the button to submit your required documents.
Your Trading Terminal is ready to be downloaded here. Please select your preferred trading platforms and your application OS. The terminal will start downloading automatically.
This is the most interesting section. Every time the broker activates any promotional offers or campaigns, it will appear right there in the selected box. You do not need to search for any specific campaign and promotional details on the site. Just select your preferred campaign and click to learn more.

In your FBS Member Area, there will be 4 different menu buttons in the top header section. In the "Finances" tab you will find all of your transactional histories along with your deposit and withdrawal options.
"Loyalty Program" is something that broker offers to their high-end client to meet certain criteria for some additional rewards. You do not need anything specific rather trade. When you have executed any entry you will get some reward points and it will automatically calculate in real-time. using such points can be exchanged with bonuses, and real funds, or can be used to part in the broker-exclusive program.
The the "Promotions" tab, you will find broker-offered promotional offerings and campaigns. You can avail of those offers by clicking the instructed link. We recommend everyone read the campaign terms first before enrolling in it. It is really important.
The "Economics Calendar" section provides you with the recent and upcoming important economic events that can move sudden fluctuations of any currency pair. If you are a real trader then always try to keep yourself updated with the news and events.
We have already discussed in brief information about different types of FBS Trading Account. You can always check it from our website's
FBS Broker section
. We have added a FAQ section where you can find the most common answers. Please refer to the
FBS FAQ Section
to learn more.
---
If this article seems useful to your then please click the like button below. You can also share your valuable feedback or ask questions in the below comment section. Also, subscribe to our newsletter for trading-related updates.
---