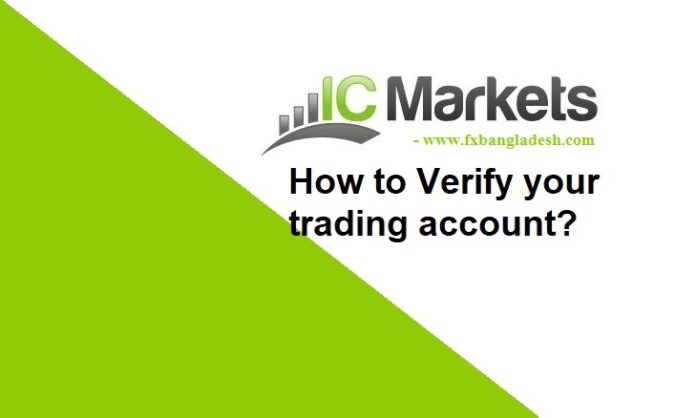 Estimated reading time:
3 min
ICMarkets Verification process is simple and straightforward. You need to submit the necessary documents as per the broker instructions and your account will be verified and the broker will send an email to notify you.
In today's article, we will discuss the steps that you need to follow to complete the verification process.
About ICMarkets
IC Markets is an Australian regulated broker that has been conducting business globally since 2006. This broker is popular enough among traders just because of its lower trading spread and different trading facilities.
Generally, it is hard to find any ASIC-regulated retail forex broker because it is not much easy to get approval for this Australian regulation without providing quality financial services.
Australian Securities and Investment Commission in short ASIC has been treated like a top-tier regulatory authority that strictly monitors all of its authorized organization's services and activities and takes necessary actions if required. Even they often take customer complaints seriously.
FXPedia.info always recommends using any FCA or ASIC regulated forex broker because they are transparent and do not scam with their clients. Flexible leverage up to 1:500, different types of trading account, swap-free trading system, and same-day fund withdrawal are considered the most important factors for its popularity.
As per the broker regulatory terms, clients' trading account must be verified before getting approval for trading. If you do not complete the verification process then you will not be able to start trading.
So, our recommendation is to complete the verification then you can try to deposit funds into your trading account.
Prior to starting the verification process, you must register a real trading account with ICMarkets Broker. If you do not have a trading account, please visit the broker's official website www.icmarkets.com and follow the onscreen instructions.
If you face any difficulties then you can read our ICMarkets Registration article. The detailed registration process has been mentioned here.
Once the account has been successfully registered, log in to the broker's cabinet by entering your registered email ID and password. You need the following documents to complete the ICMarkets Verification process.
NID or Passport or Driving license and
A copy of the Bank Statement or Utility Bills Copy.
Keep this information with you and follow the instructions below.
ICMarkets Verification
After logging in to the broker's cabinet, click on the Upload Documents button under the Profile tab. from the upper right corner. After that, a new page will appear in front of you where you have to submit the required information to verify the account. Take a look at the image below –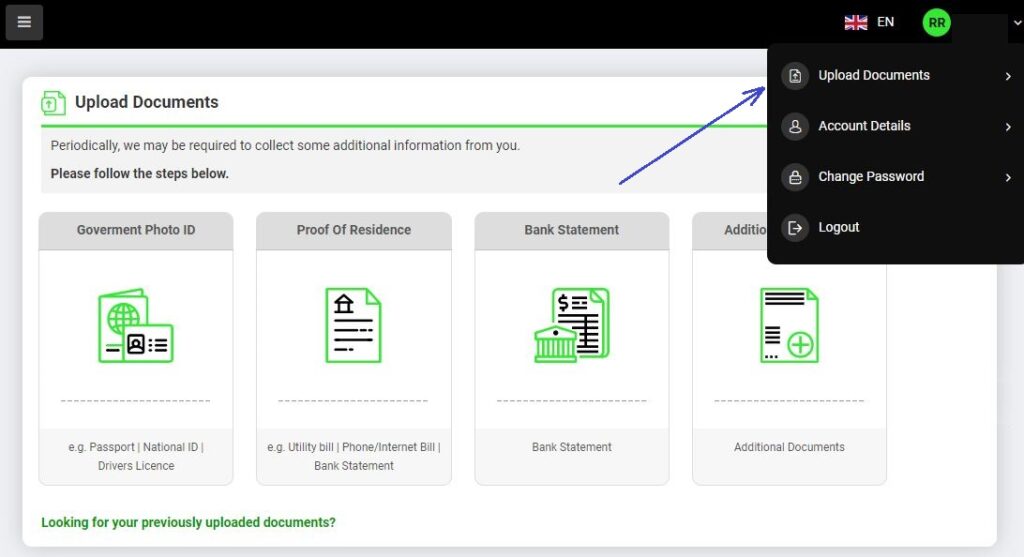 here you will see 4 individual segments that you need to provide your documents according to the description. You do not need to submit documents in all of these mentioned segments.
Our recommendation is to select the first two.
In the 1st section, you need to submit any of your Govt issued ID cards. It can be your NID or Passport or Driving License.
In the 2nd Section, you need to submit any of your utility bills or bank statement copies that have been issued under your name.
After clicking on the specific section, a file upload box will appear where you need to submit your selected documents accordingly.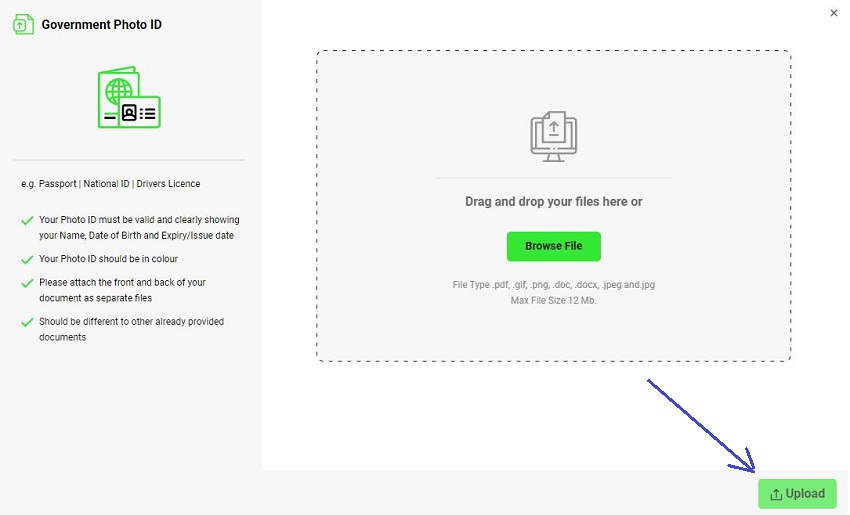 After submitting the documents please click the "Upload" button accordingly and your provided document will be uploaded.
On the other hand, to submit documents for the proof of residence please click the 2nd section of the upload documents and submit the copy of your bill.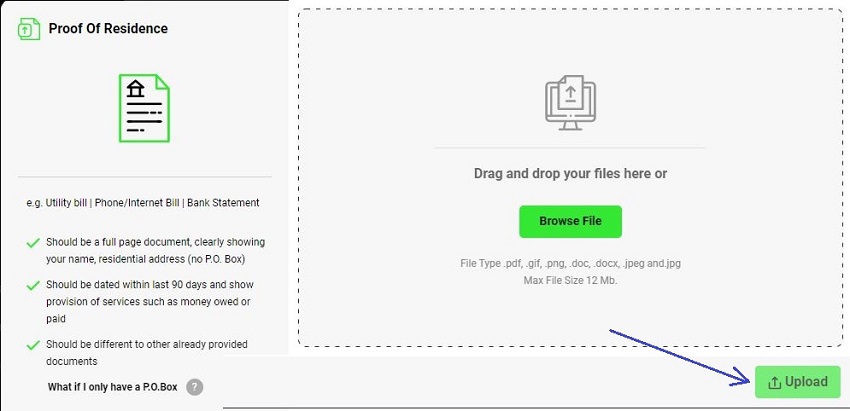 After submitting the documents please click the "Upload" button accordingly and your provided document will be uploaded.
Once the information is submitted correctly, you will see the file uploaded information at the bottom. Much like the picture below –

In the picture above you can see Approved which means that our uploaded documents have already been verified. However, after you upload the file, you will see the word Pending here.
This means that your submitted documents are being reviewed and when the process is completed, its status will change to Approved. We hope you understand the whole process of ICMarkets Verification. Once the file is approved, you will be notified via email.
Verification Terms
You need to make sure, you have acknowledged the below-mentioned points before submitting your documents. Otherwise, your documents can be rejected.
Your name, date of birth, photo and card issuing, and expiry date must be clearly visible on your govt issued id card.
The photo should be in color.
You need to submit both sides of your id cards front and back page photos.
Your utility bill or Bank Statement copy must be in full-page and colored copy.
Your full name, residential address, and PO Box code must be visible in the statement.
Should be dated within last 90 days and show provision of services such as money owed or paid.
Uploaded images must be colorful and clear. So that the 4 corners of the picture can be clearly visible.
E-Statement will not be accepted for verification.
NB: The required documents for verification may vary from region. Just like, Aussie can simply upload their Social Security Number instead of uploading a lot of things or signing up with Paypal does not require any document verification.
If you have any confusion or question regarding the registration process, you can let us know in the comment box. We will try our best to assist you. You can also check our website's
ICMarkets Section
for more tutorials and guides and can check the
IC Markets FAQ
section for the answers to the most common questions regarding this broker.
---
If this article seems useful to your then please click the like button below. You can also share your valuable feedback or ask questions in the below comment section. Also, subscribe to our newsletter for trading-related updates.
---