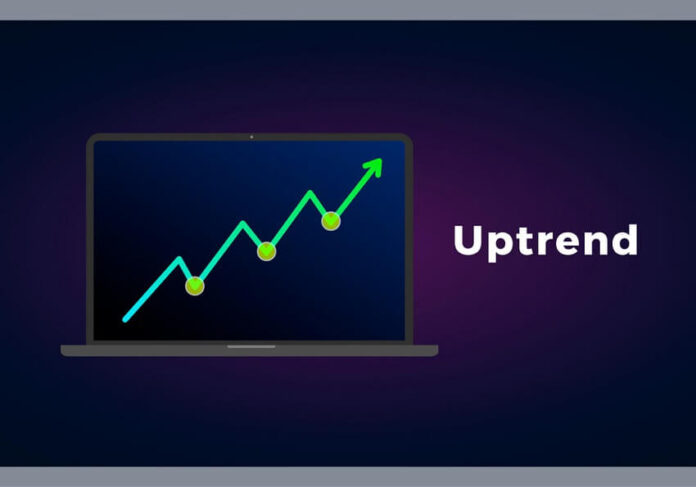 Estimated reading time:
2 min
An uptrend is an overall move higher in price, created by higher highs and higher lows.
It describes when the price is moving upward or getting higher.
The uptrend is therefore composed of higher swing lows and higher swing highs.
As long as the price is making these higher swing lows and higher swing highs, the uptrend is considered intact.
Once the price starts making lower swing highs or lower swing lows, the uptrend is in question or has reversed into a downtrend.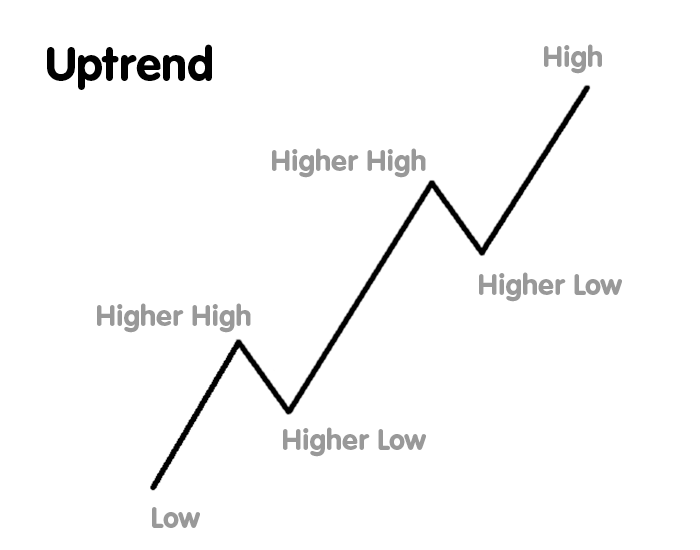 Higher Peaks and Troughs
Higher peaks and troughs characterize uptrends with higher highs and higher lows taking place.
A peak refers to the highest point. A trough is the lower point.
In an uptrend, each successive peak and trough is higher than the ones found earlier in the trend.
An uptrend is characterized by the chart's peaks and troughs reaching new highs as the trend progresses.
So, if you look at the chart over time, it may be zigzagging, but it's generally going up.
How to Trade an Uptrend
Traditionally, the way to spot an uptrend is to look for higher highs, as well as higher lows.
That's because buyers are active and driving up the price. They're also quicker to buy in on dips.
Traders utilize trend lines to identify an uptrend and spot possible trend reversals.
The trend line is drawn along the rising swing lows, which helps show where future swing lows may form.
An uptrend provides traders with an opportunity to profit from rising asset prices.
Selling an asset once it has failed to create a higher peak and trough is one of the most effective ways to avoid large losses that can result from a change in trend.
The price should be making higher swing highs and higher swing lows to confirm that an uptrend is present.
When an asset fails to produce higher swing highs and lows, it means that a downtrend could be underway, the asset is ranging, or the price action is choppy and the trend direction is hard to determine.
In such cases, traders may opt to step aside until an uptrend is clearly visible.
Trading Tips
Look for prices to reach previous lows but are not able to break through. This is a good indication that sellers are no longer sellers and we could be setting up for a move higher.
Use previous lows as a stop location
Look for a break in previous highs to confirm the uptrend.
Profits should be taken as prices flush above previous highs and stops should be adjusted to the last previous low.
Trends are temporary. Even if they are strong or have a potential for making profits, never risk too much on any one trade.
---
If this article seems useful to your then please click the like button below. You can also share your valuable feedback or ask questions in the below comment section. Also, subscribe to our newsletter for trading-related updates.
---