Neteller is one of the most popular wallet systems among forex traders. Almost each and every forex broker supports the Neteller wallet for transactions. In today's article, you will get some idea about how to register a Neteller account and how to complete the verification.
Because of its strong regulation and tight security, Neteller has gradually become more popular nowadays. Opening an account is simple and easy. Please follow the below-mentioned steps accordingly.
How to open a Neteller account?
It doesn't cost any to open a Neteller account. You can open an account for free. In some cases, we have heard the Neteller account is ready for sale. Our suggestion is to please never buy a Neteller account that has been registered by anyone else. Remember, registering a Neteller account is completely free and you do not need to spend a penny on this. After reading the whole article you will understand the detailed process and can easily register by yourself.
After clicking on the Registration button above, a form will appear and you need to complete it. Fill out the form correctly and click the "Open Account" button. Your Neteller account will be open and you will receive a confirmation email with your given email id. Now you can log in and verify your Neteller account.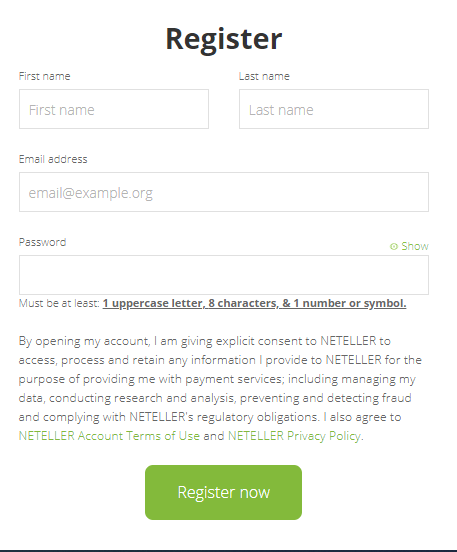 How to Verify Neteller Account?
Most of the time, users have encountered some issues while verifying the Neteller's account. But the funny thing is, it's very easy and simple. We get into this problem because of some of our own mistakes. Now we will discuss how to verify your Neteller account.
Step 1, After opening the Neteller account correctly, you must, first deposit any amount via uploading some funds for your Bank Card or can transfer from other Neteller account users. Then you will get the option to verify your account. The amount can be any, however, from Neteller to Neteller's minimum $5 can be transferred. If you have a Skrill account you can deposit $ 0.01 at least.
Step 2, After depositing the Amount – You will need to set up 3 different security questions. These questions are important for future uses. If your account is compromised or blocked then you need to use these answers to re-activate.
For the sake of account security, you must answer these questions properly and refrain from sharing them with anyone else. Then, you need to set a 6-digit PIN code for your account. You will need this code when logging in and making a payment to another account. For the sake of account security, refrain from sharing this security PIN with anyone. But if you ever forget this code, you can set it up to recover. So no worries about that.
Step 3, Now you have to upload a copy of the NID / Passport / Driving License to verify your name correctly. Here you will submit two color photographs of your NID / Passport / Driving License. In this case, you need to use the webcam.
Last step, is to verify your address, and upload a copy of any Utility Bill / Council papers / Court Bill / Bank statement that is in your name. Now take your NID / Passport / Driving License in front of your face. (You must use Webcam to upload this image directly)
NB: When you are trying to verify your Neteller account, please be aware of the following:
The uploaded image must be colored. Neither whitening nor photocopying will be acceptable.
The picture of the NID / Passport / Driving License is clear and your Name and Date of Birth must be visible here.
The image cannot be scanned and is Duplicated. Scanning documents cannot be accepted for any verification. In this case, when submitting the document, you will take a picture directly from your smartphone/webcam and upload it.
When taking a picture of a document, place it on a clear table, then take good focus on it and take the picture please make sure, all

4 corners

of your documents are clearly visible.
Do not register or verify your Neteller account through a VPN. This may cause your account to be permanently blocked.
Never open

two or multiple Neteller accounts

under the same name, it will block your two accounts. Neteller does not offer the benefits of using more than one account and when you register the account, your Internet IP is going to be stored on Neteller's server. So, If you try to register multiple accounts by using the same IP, you will be in danger.
Don't proceed to open an account with the wrong information. If you do not have the required information, there is no need to register an account in your name.
Do not use your Neteller account login information using multiple browsers or IPs. This may cause your account to be compromised. One more thing is important, never log in or browse to a Neteller account by using a public internet connection (Ex: Shopping Mall, Park, Hotel, or cyber cafe). This may result in your account being permanently blocked.
Please contact us if you have any problems. For more details on verification, please visit the Neteller section of our forum. The link to the forum is given at the end of the article.
Thanks
Official Website-
www.neteller.com
---
If this article seems useful to your then please click the like button below. You can also share your valuable feedback or ask questions in the below comment section. Also, subscribe to our newsletter for trading-related updates.
---