Exness Withdrawal Review – We have discussed with you several articles about popular broker Exness before. We have informed you about broker Review, Verification, Deposit system, etc. and we hope these articles have helped you a little bit. For some time now, you have been requesting a detailed discussion of the Exness Withdrawal System. In today's article, we will discuss the process of how withdrawing funds from this popular broker.
As you already know from our previous articles, the biggest reason for the popularity of Exness is its Withdrawal system. From our experience, exness is the only broker who executes any transaction automatically whether you want to deposit or make a withdrawal request. So, let's get started.
About Exness Withdrawal System –
Before starting the process you must consider your trading account must be verified. If you do not know how to pass the verification process please read the Exness Account Verification article carefully.
Another thing is, to make sure you are using the same withdrawal method as you have used to deposit it before. Confused?
Suppose you have deposited funds in your trading account through the Neteller gateway. In that case, you have to use Neteller when you want to withdraw funds from your trading account. You will not be able to withdraw funds using any other payment gateway except Neteller. Now if this is the case, you have deposited funds using both of using Neteller and Skrill, then you have to use these two gateways in portion while withdrawing funds. Seems complicated? no worries, trying to make it clear.
Suppose you have deposited $1000 into Exness Standard Trading Account through Neteller and Skrill. After, you have got some profits of $500. Now you have $1500 in your trading account in total. In that case, when you need to withdraw funds, you must have to use the two same payment gateway that you used to deposit earlier. As you have decided to withdraw your profit so, you should use Neteller and Skrill system proportionally. In the above example, $250 should be withdrawn by using Neteller and $250 should be withdrawn by using Skrill. We hope you understand the math.
Otherwise your
Exness Withdrawal Via

Neteller

–
To withdraw funds from a broker's account, first, you need to log in to your client cabinet. After logging in, click the "Withdrawal" button from the next menu option.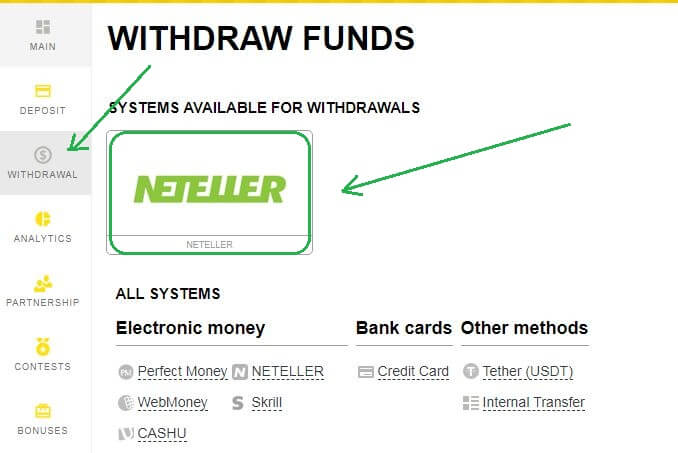 After clicking, a new page will appear in front of you where you will see the Neteller logo. Now click on it like the picture.
After clicking on the Neteller Logo, a new form will appear in front of you where you need to select your trading account, use your Neteller Account email or the account number and specify the withdrawal amount, and then click "Next".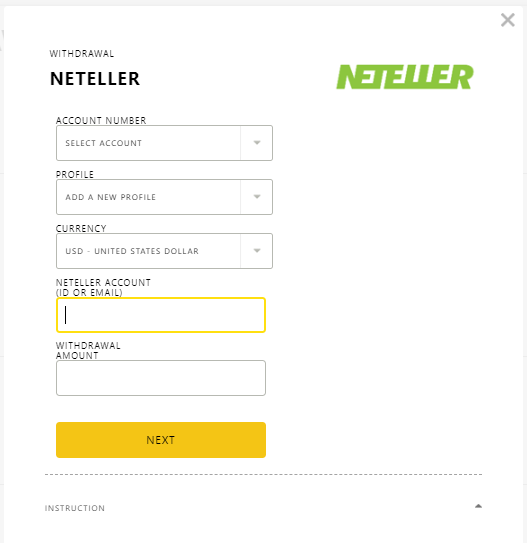 And follow the next instructions. Before withdrawing funds, a verification code will be sent to your email or your registered phone number for security.
Check that code and submit it for verification. Within a few seconds, your funds will be sent to your Neteller account immediately. We hope you got the details about the whole process.
Exness Withdrawal Via

Skrill
The same instructions should follow while using Skrill to withdraw funds from your trading account. Click on the skrill logo this time and follow the above instructions step by step.
Exness Withdrawal Via

Credit Card
This option is only available if you use credit card systems for depositing funds in your trading account before. Otherwise, it will not be clickable or show an error when you are trying to use this for the fund withdrawal process.
Instructions are the same as depositing funds into your trading. kindly request you to read the Exness Deposit article to know more.
If you want to know more about this broker, then please have a look at our Website's
Exness Broker
Section. Also, you can check our
Exness Broker FAQ
to know the answers to the most common questions. If you have any feedback or questions regarding this article, please let us know in the comments box below. We will try to assist you.
---
If this article seems useful to your then please click the like button below. You can also share your valuable feedback or ask questions in the below comment section. Also, subscribe to our newsletter for trading-related updates.
---