How to deposit Exness Via Bank in Bangladesh?
This topic is exclusively for Bangladeshi Traders only! If you are not a Bangladeshi Resident or your trading account does not verify via Bangladeshi required documents then you can not use such options.
Selected trading accounts from the Bangladesh region can able to deposit via their local bank accounts directly. In order to offer such a facility, Exness Broker uses a third-party payment gateway service named "Binder".  Exness Broker uses a binder to process your online bank transfer transactions and execute your deposit request manually.
If your trading account is eligible to use Binder, then you can see it in your client cabinet or personal area. Please login to your personal area and navigate to the fund deposit section.
Using Binder for Bank Transfer
If you are allowed to deposit by using Bank Transfer then you can find an icon named "Offline Bank Transfer" in your client's cabinet. Click this option and a page will appear to select your trading account and specify the amount that you want to deposit.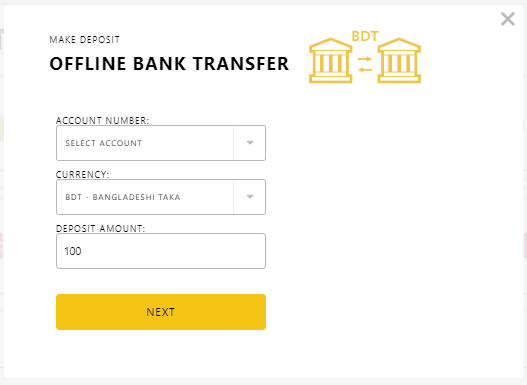 Here "Deposit Amount" will be your local currency (BDT). So if you want to deposit around $2000 in total then you must specify the actual amount based on our local currency here. Click "Next" right after.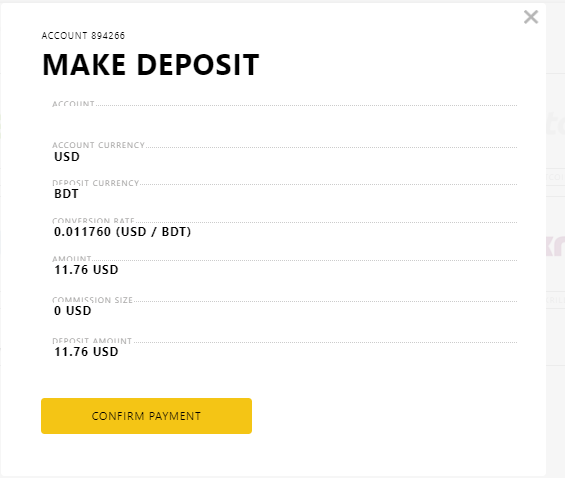 For the above example, we have chosen 1000 BDT (Local Currency) to deposit and it will now automatically convert to USD (our trading account currency). You can check the conversion rate here. Click "Confirm Payment" to proceed further.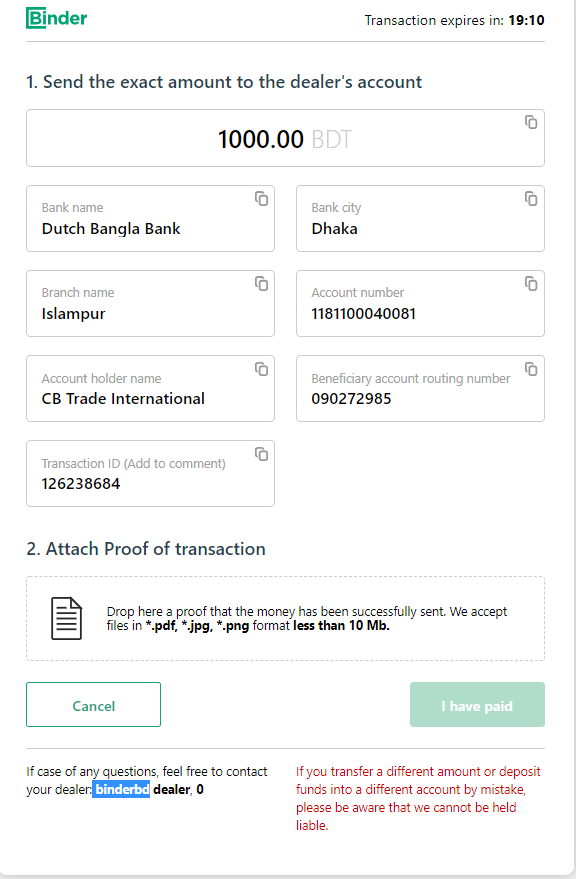 In this section, you get the actual Binders Marchant account information that you need to use to transfer the funds. Please be noted, such information changes over time to time. So, when you are ready to deposit please make sure to check the binders account information carefully.
Here are the sample account details that you need to transfer funds from your local bank account to the Binders merchant account.
Bank account details vary from country to country. As this Trading account has been registered from Bangladesh so Bangladeshi Bank account information has displayed here. If you are trying to use this method from India or Somewhere else then account details must be different. 
After transferring funds to the merchant account online, you need to upload your deposit slip screenshot in the "Attach Proof of Transaction" section and then click the "I have paid" button.
It will then redirect you to the confirmation page and you need to wait for a couple of hours to execute the payment request.
Please make sure, Bank transactions will not execute instantly. When your payment is confirmed you will get a confirmation in your registered email and funds will be credited to your trading account. For more information, please visit the broker's official website – www.exness.com
Supported Bank Lists
Here we have added a list of banks that support online fund transfers. Please find the registered bank that you want to use to deposit.
AB Bank
Agrani Bank
Al-Arafah Islami Bank
Bangladesh Commerce Bank
Bangladesh Development Bank
Bank alfalah
Bank Asia
BASIC Bank
Bengal Commercial Bank
BRAC Bank
Citizens Bank PLC
City Bank
Commercial Bank of Ceylon PLC
Community Bank Bangladesh
Dhaka Bank
Dutch-Bangla Bank
Eastern Bank
EXIM Bank
First Security Islami Bank
Global Islamic Bank
HSBC
ICB Islamic Bank
IFIC Bank
Islami Bank Bangladesh
Jamuna Bank
Janata Bank
Meghna Bank
Mercantile Bank
Midland Bank
Modhumoti Bank
Mutual Trust Bank
National Bank
National Credit & Commerce Bank
NRB Bank
NRB Commercial Bank
One Bank
Padma Bank
Premier Bank
Prime Bank
Pubali Bank
Rupali Bank
Shahjalal Islami Bank
Shimanto Bank
Social Islami Bank
Sonali Bank
South Bangla Agriculture and Commerce Bank
Southeast Bank
Standard Bank
Standard Chartered Bank
Trust Bank
Union Bank
United Commercial Bank
Uttara Bank
Bank Transfer Terms
Here's what you need to know about using Binder in Bangladesh:
                              Bangladesh
Minimum deposit
10 000 BDT
Maximum deposit
250 000 BDT
Minimum withdrawal
(with internet banking)
15 000 BDT
Maximum withdrawal
(with internet banking)
300 000 BDT
Deposit and withdrawal fees
Free
Deposit processing time
Average: 30 minutes
Maximum: Up to 3 business days
Withdrawal processing time
Average: 30 minutes
Maximum: Up to 3 business days
Deposit with Binder
Select Binder from the Deposit section of your Personal Area. You will be redirected to a payment page.
Key in the deposit amount, and select the bank name, account name, branch name, account number, and transaction ID.
Attach the Proof of Transaction (any receipt, screenshot, etc. as proof that the money has been sent).
Note: Documents in .pdf, .jpg, and .png format below 10MB are accepted as Proof of Transaction.
Confirm the transaction by clicking on I have paid.
Upon confirmation, you will receive the estimated processing time for the transaction (maximum of 3 working days processing time).
Your deposit action is now complete and the funds should reflect in your chosen trading account after the processing time.
Withdrawal with Local bank transfer
Select Local bank transfer in the Withdrawal section of your Personal Area.
Select your preferred trading account, enter the withdrawal amount and currency available and click Confirm.
Select the bank name, key in the account holder name, and account number.
Note: You can only withdraw funds to your personal account. Transfer requests to legal entities or third parties will be rejected.
If all the information is correct, click Confirm. On the next screen, click Go to Merchant.
You will receive a summary of the transaction with the email confirmation once the funds have been transferred into your account. Once you have received the funds, click Funds Received. Your withdrawal action is now complete.
If you want to learn more, please have a look at the Exness Broker section. We have also added a FAQ section where you can find the most common answers. Please refer to the Exness FAQ Section to find your answers.
---
If this article seems useful to your then please click the like button below. You can also share your valuable feedback or ask questions in the below comment section. Also, subscribe to our newsletter for trading-related updates.
---