If you want to block any of your trading accounts then please make sure, the account does not have any funds and does not have any active or pending orders. Otherwise, the broker will not allow you to achieve or block that particular account.
Blocking your Trading Account
Unfortunately, you won't able to delete any of your registered trading accounts. You only can hide or archive or block it from your client cabinet and that trading account will not be available to login to your trading terminal.
To do that you need to login into your client cabinet or broker dashboard by using your registered email address and password.
after login, all of your created trading accounts can be found in your dashboard. from here select the account you want to archive and find a "⚙ – Gear Icon" from the right. Check the below image for your reference.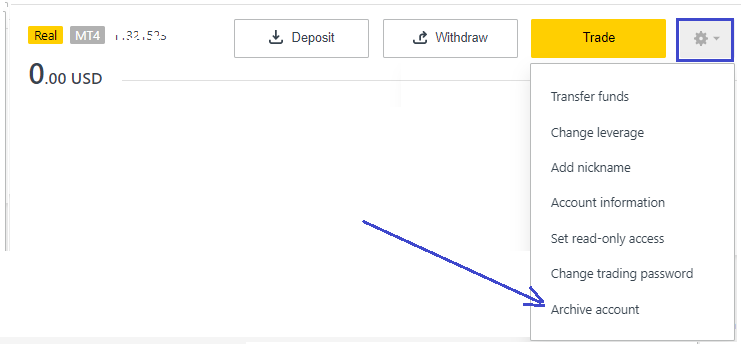 after clicking the "Archive Account" the selected trading account will be hidden from your dashboard and will not be able to deposit or log in to any trading terminal.
But if you want to use that account in the future, then you can reactivate it again from your client cabinet.

just click on the "Archived" button then you can see all of your already archived trading accounts and click the "Reactivate" button situated on the right. Your trading account will be available again for trading and you can now log in to your trading terminal.
If you want to learn more, please have a look at the Exness Broker section. We have also added a FAQ section where you can find the most common answers. Please refer to the Exness FAQ Section to find your answers.
---
If this article seems useful to your then please click the like button below. You can also share your valuable feedback or ask questions in the below comment section. Also, subscribe to our newsletter for trading-related updates.
---