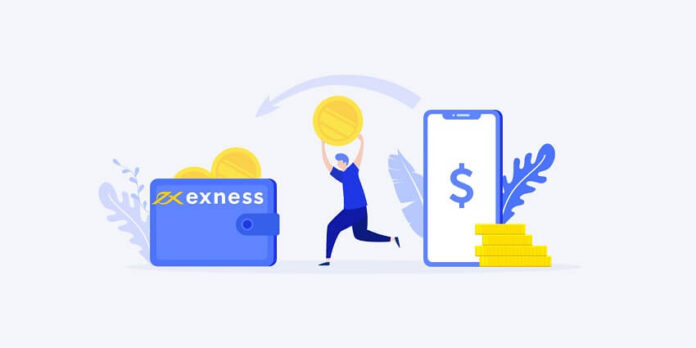 Estimated reading time:
4 min
Exness Affiliate Program – This broker offers different partnership programs for those who are interested to work with Exness. The main advantages of this affiliate program are, that you can bring your clients and refer them to Exness and then can earn some profit from their daily trading. Broker called it a revenue-sharing system.
Exness Partnership System
Exness Broker offers two types of partnership programs. We will discuss both in this article so that you can choose your preferred one and start working right after to earn some extra rewards.
1. Introducing Broker Program
First of all, you need to know, What is an Introducing Broker? Introducing Broker is a form of partnership in that you can promote the broker services to your known person who is interested in forex trading.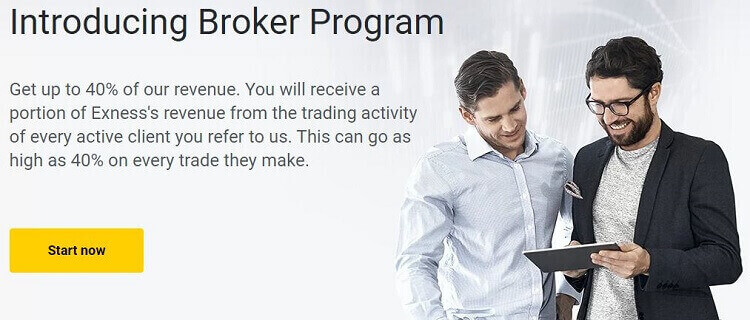 If your referral joins and starts trading with exness then the broker will share up to 40% of their revenue with you. It is a long-term opportunity so if any of your referred traders use exness for the next 2/3 years then you will get paid for each of his closing trade position. You can say, it's a win-win situation for you and your broker. Here are some key advantages of this partnership system.
40% of broker revenue

. You will receive a portion of Exness's revenue from the trading activity of every active client you refer. This can go as high as 40% on every trade they make.

No limitations or obligations

. The more you refer the more you can earn. According to the broker, if you have 10 active clients and they perform regular basis trading then you may earn up to $800 per month. Please be noted, that this ratio varies based on trading instruments and lots.

No payment restrictions.

You can withdraw Exness Affiliate Earnings on a daily basis.
A

wide range of promotional materials

is directly provided by Exness. You can share and use it in your marketing strategies to attract new traders.
A

dedicated Affiliate manager

can help you to promote and educate you and share some promotional details that you can use to attract clients.
Simple and

easy registration process

. just visit the broker's official website www.exness.com and sign up for a trading account. Complete the verification and you are good to go or directly visit their dedicated Partnership Portal and register yourself. Here is the address – https://www.exnessaffiliates.com/
2. Exness Affiliate Program
This type of partnership program is mainly for webmasters or social influencers. In simple words, if you have an active blog, website, or fan page you can share exness brand-related information as a digital publication to your visitors or subscribers.
This publication can be article posting, service-related updates, and others. This type of affiliate holder can earn up to $1770 per referred active client in this broker.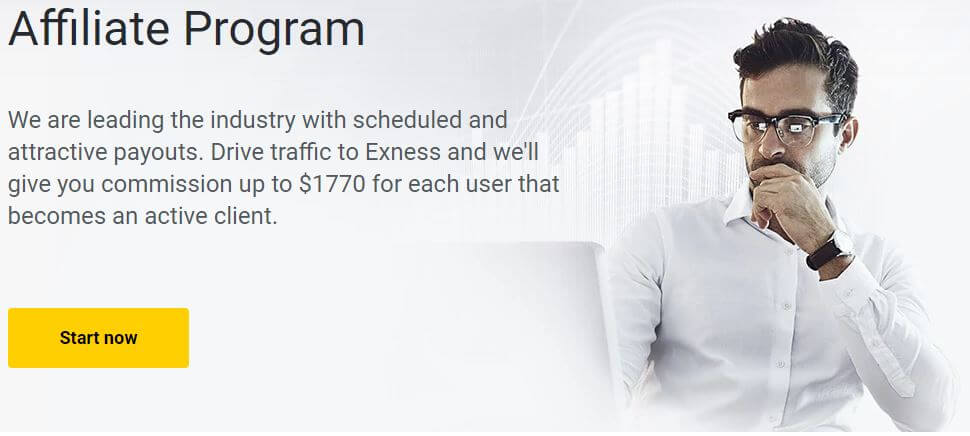 The broker offers two types of affiliate programs.
CPA-based Affiliation &
CPL Based Affiliation
CPA Based: Cost Per Action In short CPA advertising model is where publishers (Affiliates) are paid for an action that is taken as a direct result of their marketing performance like a sale, click registration, order, etc. Exness CPA program follows an affiliate model, where a commission is paid when a user takes a specific action – First Time Deposit (FTD). FTD is calculated as the cumulative sum of deposits made within 24 hours of the first deposit. This value is very important in determining the payout for Affiliates.
Key Points:
The minimum permissible FTD is USD 2.
The clients must have traded at least 0.1 lot (or have an open position) in the last 180 days post-registration, to qualify as an action.
During the first 1-2 months (probation period), a minimum of 5 clients must be attracted to qualify for the reward.
You will be paid only once for your referred trader. That means the broker will not share any lifetime revenue with you.
Simple and easy registration process. just visit their dedicated Partnership Portal and register yourself. Here is the address – https://www.exnessaffiliates.com/
CPL Based: Cost Per Lead In short CPL is an affiliate model where a commission is paid when a user takes a specific action – registration as a new/unique Exness client. A registration is considered valid as long as the client provides his email address and phone number.
Key points:
The period of CPL payment is next calendar month. This means that Affiliates Partners are eligible to receive payouts the month after the billable month.
Registrations must be real. All registrations deemed fraud as per our Digital Affiliate agreement will not be paid for.
Exness accepts registrations from Web, iOS, and Android platforms, and their payouts differ based on the platform used and the country the referred user belongs to.
Payout Range per Lead: For Web – $3-$25 and for App (iOS/Android) – $2-$5
Simple and easy registration process. just visit their dedicated Partnership Portal and register yourself. Here is the address – https://www.exnessaffiliates.com/
Partnership Differences
So far, you have acknowledged different partnership offerings and their types. Now you have to decide which one you should choose to work with. Actually, it varies based on your expert areas. In simple words, it depends on your performance.
If you want to work with this broker for a long time and you have the ability to create enough references for clients then Introducing Broker Program may be for you. But you need to make sure, you need to provide enough support so that your referred traders can sustain in this Forex Trading for a long time. Otherwise, this partnership option is not gonna work in the future.
If you are forex personnel, then we recommend enrolling yourself as an Introducing Broker. Otherwise, you will not be able to provide future support to your clients which can hamper your revenue earnings.
On the other hand, If your blog or website contains different types of content that do not relate to Forex or trading and you do not have enough time to Provide forex-related support then CPL Based Affiliate program may work for you.
In CPL you will earn based on active registration and App download in simple words for Traffic Generation so you do not need to think about the future consequences such as whether your referred client starts trading or not. You can simply earn profit by referring a single visitor to
Exness Website
.
So, It is up to you how and what sources you can use to attract clients to Exness Broker. If you want to know more about affiliate systems then our Expert team may guide you. Just send an email to [email protected] with a proper subject and our team of experts can help you for finding the best solution for you.
If you want to learn more, please have a look at the Exness Broker section. We have also added a FAQ section where you can find the most common answers. Please refer to the Exness FAQ Section to find your answers.
---
If this article seems useful to your then please click the like button below. You can also share your valuable feedback or ask questions in the below comment section. Also, subscribe to our newsletter for trading-related updates.
---