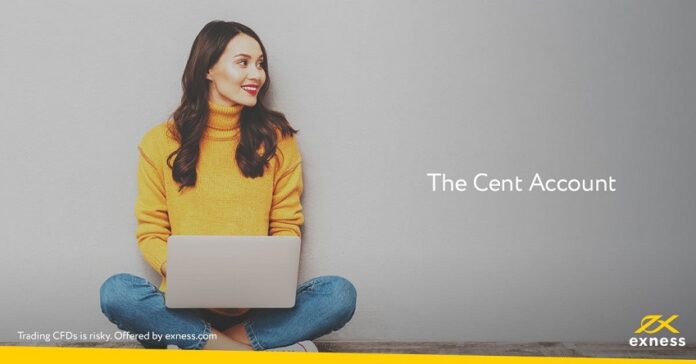 Estimated reading time:
3 min
Exness Standard Cent Account – Exness offers the facility to register and use several types of trading accounts. For example, Standard Account, RAW Account, and Zero Trading Account. Because each of these accounts has a one-of-a-kind facility, traders are able to trade to their advantage.
But for those who are interested to start their trading journey, exness broker offers a new type of trading account, especially for newbies. In today's article, we will discuss the Exness Cent Account.
As per its name, all the financial transactions of this trading account will be calculated through CENT instead of USD. In other words, the profit and loss of this account will be calculated in USC instead of USD.
Introduction
There are many people who are interested in trading in good brokers but because of the initial deposit amount in these brokers, it is not possible to do that or want to start real trading, but you do not have enough funds to deposit. Basically, this cent account is for them.
As per our advice, trading with any standard lot broker $3000-$5000 is required to deposit at least and a mini lot broker requires $2000-$2500 as an initial investment to start your trading journey. The risk of loss in trading with a balance less than this is very high, which is why we suggest that you do not need to start trading with a balance less than this amount.
Please always remember, that a bigger balance is always minimizing any associated risk. So, a bigger amount of investment will reduce the trading risk gradually. So, we strongly discourage anyone who does not effort to invest such capital, please do not need to start real trading.
More than 80% of retail traders start trading with a low investment capital of less than $400 which is not sufficient at all. So, our recommendation is to use Exness Cent Account if your investment is lower than our recommended amount. You can start trading by depositing as low as $1 only.
This trading account has some additional benefits which we will discuss in detail later. First, we need to open a trading account.
Registration
The main difference between this cent account and other trading accounts is only in terms of profit and loss. We will present the issues more easily and clearly to you in the lower part of the article. First, we have to register the Exness Standard Cent Account. To register an account, visit the broker's website – www.exness.com or you can read the Exness Signup article for the detailed account registration process.
Once the account is registered, log in to the client cabinet by using your registered email id and password. After logging in, a dashboard will open in front of you. There is a button called "Open New Account" on the top right side.

After clicking this button, another new page will appear in front of you showing you the details of different types of trading accounts. From there, click on the "Open Real Account" button in the "Standard Cent" section.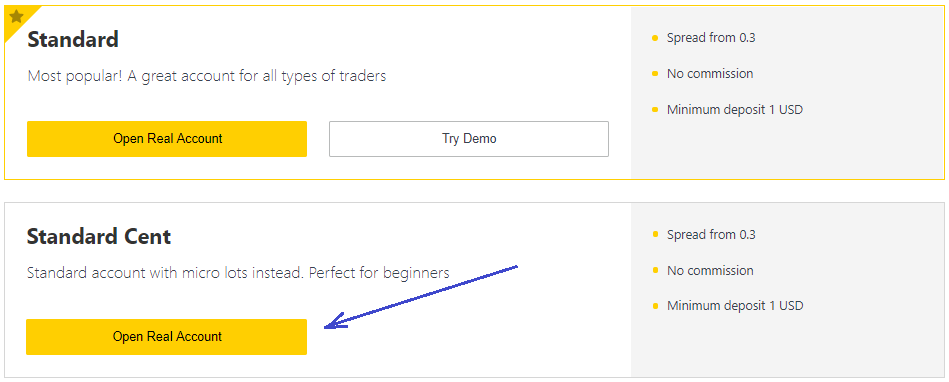 After clicking, you will see an account registration box in front of you where you have to select the trading terminal, trading password, and currency. Fill out the form correctly and click the "Create an Account" button below.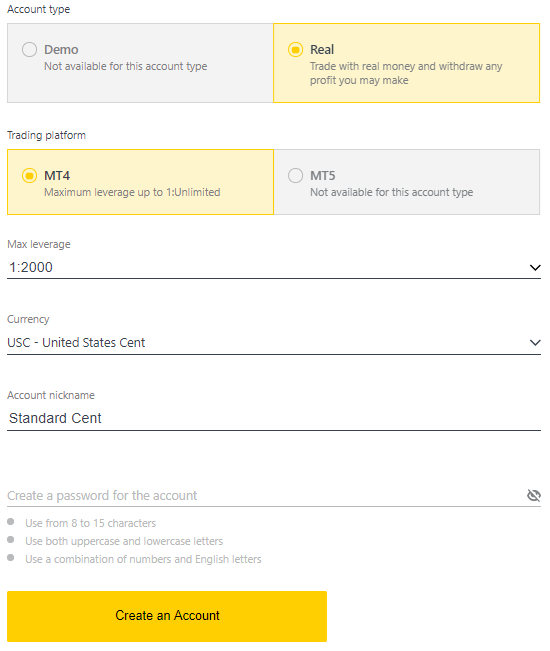 After clicking on the button, the Exness Standard Cent Account will be registered properly and account details will be notified to you via email.
Benefits
We know $1 = 100c (here "c" is cent). In other words, if you deposit 5 USD in the cent account, it will be displayed in the trading terminal as 100*5 = 500 USC.
We hope you understand the detailed Cent Account Calculation. Now it is time to explore some advantages of this type of trading account.
Minimum investment:  The broker offers a minimum deposit of $1 for a cent account. That is, even if your initial investment amount is small, you will have the advantage of starting real trades with a reliable broker.
Swap and commission-free:  In other forex brokers, extra charges and commissions are added for trading which is an extra loss for a trader. There are no additional charges or commissions for Exness Broker's cent account.
Same spread: brokers that offer mini or cent account trading tend to have higher spreads. That is if the spread of another account is 8 pips, then in the case of a cent or mini account, the spread is at least 10/12 pips. Which is more than other accounts. Exness Broker's cent account spread is the same as their other accounts. That is, no extra spread is charged by this broker.
Leverage: Broker offers the same leverage facilities to its clients. You can use up to a 1:unlimited ratio for trading.
Fund withdrawals and deposits: The main reason for the popularity of Exness broker is the facility of instant fund deposit and withdrawal. That is, it does not take more than seconds to withdraw funds from the broker. Brokers also provide the same facility for depositing and withdrawing funds in a cent account.
If you have any further information, please let us know in the comments section below. We will try our best to assist you further. You can also find answers to the most common questions related to this broker in our 
Exness FAQ
 section and also find enough tutorials regarding this broker in our website's 
Exness Broker
 section.
---
If this article seems useful to your then please click the like button below. You can also share your valuable feedback or ask questions in the below comment section. Also, subscribe to our newsletter for trading-related updates.
---