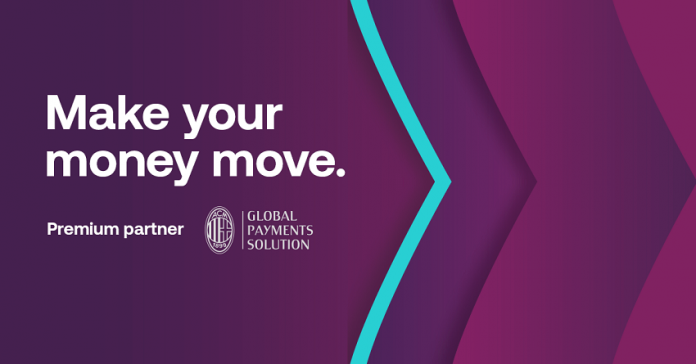 Estimated reading time:
3 min
Skrill is one of the most reliable and secured payment wallet systems for forex trading. You can easily open an account and use it with any forex broker. It also offers a variety of fund deposit and withdrawal systems depending on your region.
If forex trading is legal in your region then you can easily use your local bank account for transactions but in other cases, you need to use some third-party wallet system. You are interested to use any payment wallet then we highly recommend using skrill as it is strictly regulated and secured.
Skrill Account Registration
The account registration process is very easy and simple. You need to use your valid email address and official name while registering an account. First of all, go to the skrill official website www.skrill.com and you will see a button called "Register". Please click this button and you will be redirected to a new page where a registration form will appear.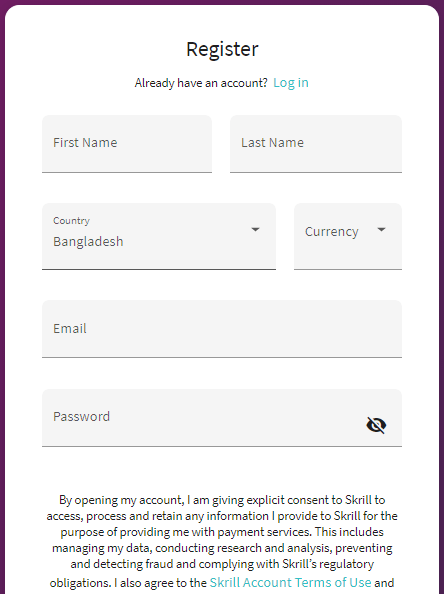 Please complete this based on your valid information and click the "Register" button right below. Congrats, dear! you have successfully registered your account. Please check your registered email address. A confirmation email will arrive.
Now you need to login into your account dashboard cause here we will set up some information that can help to verify our wallet.
Skrill Account Verification
After registering an account, you can start using it but some transactions limitations will apply. Account verification is not mandatory but we highly recommend completing the verification. Here we have added a short video about the verification process. You can watch it by clicking the play button.
– Video Tutorial –
(Web verification)
Step 1: The easiest way to submit information for verification is to download the app from the Google Play Store and then submit the information. Click this link to download the appropriate application based on your smartphone OS. Link – https://tick.is/skrillApp.
After the app is being downloaded, log in to the account by providing your registered information such as your email and passkey.
– Video Tutorial –
(App verification)
Step 2: After login to the account, two types of information must be submitted for verification.
First, you need to upload a color image of your NID / Passport / Driving License, which is in your name, to verify your identity.
Remember, you have to take a real picture. If you scan and upload the image, it will be treated as invalid. While taking pictures, Please make sure it should be clear and all 4 corners of the ID card are clearly visible.
Step 3: Now to verify your address correctly, upload a copy of any Utility Bill / Council papers / Court Bill / Bank statement which is in your name.
It may take up to 24 hours for the information to be submitted correctly. Next, your account verification status will be notified via email. Please also visit Skrill's official website – www.skrill.com for more detailed information.
NOTES:
When verifying the Skrill Account correctly, be aware of the following:
The uploaded image must be colored. Neither whitening nor photocopying will be acceptable.
The picture of the NID / Passport / Driving License is clear and your name and age must be clearly visible.
The image cannot be scanned and uploaded. Scanned documents cannot be submitted for any image verification. In this case, we recommend using the Skrill App. By using the app you can easily submit your documents. Please click this link and the application will be downloaded based on your smartphone OS – https://tick.is/skrillApp.
if you are trying to upload the document by using the skrill website, place your ID card on a table or a plain surface and then take a picture. Make sure all 4 corners are clearly visible and clean.
Do not register or verify your Skrill account through a VPN. This may cause your account to be permanently blocked.
Never open two or multiple Skrill accounts with the same name or details. If you do so, your two accounts will be blocked. Skrill does not offer the benefit of using multiple accounts and when you register the account, your Internet IP is stored on skrill's server. If you try to register an account using the same IP, you will be in danger.
Don't proceed to open an account with the wrong information. If you do not have the required documents, there is no need to register an account in your name.
Do not use your Skrill account using multiple browsers or IPs. This may cause your account to be compromised. One more thing is important, never log in or browse a skrill account using a public internet connection (Ex. Shopping Mall, Park, Hotel, Cybercafe). This may result in your account being permanently blocked.
Please contact us if you have any problems. For more details on verification, please visit the Skrill section of our forum. The link to the forum is given at the end of the article.
You can also find the answers to the most common questions related to the wallet in our
Skrill FAQ
section and also find enough tutorials on our website's
Skrill segments
.
---
If this article seems useful to your then please click the like button below. You can also share your valuable feedback or ask questions in the below comment section. Also, subscribe to our newsletter for trading-related updates.
---