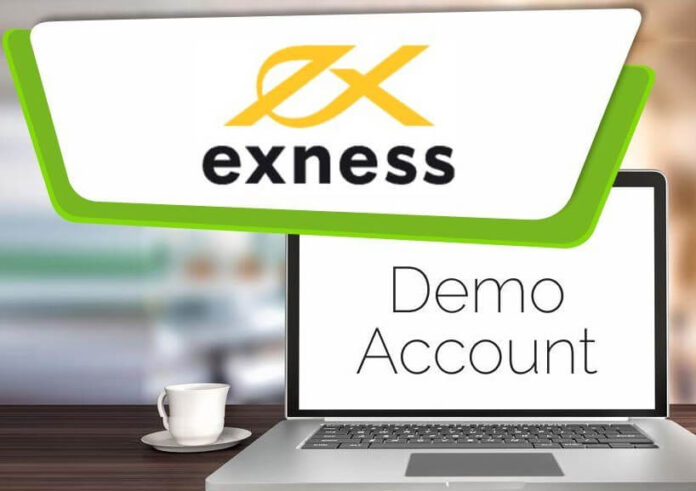 Estimated reading time:
2 min
Exness Demo Account – We have already presented to you some information about Exness Broker. For example, review, trading accounts, verification, account registration, fund deposit, fund withdrawal, etc. In today's article, we will learn how to register a demo or practice account with this broker. So let's get started.
Registration
The account registration process with Exness Broker is very simple. You can only register using your email id. To do this, please first click on the broker's official website www.exness.com and follow the onscreen instructions. You can also learn the detailed process of trading account registration from the Exness Registration article.
After registering the account, please log in to your cabinet. Login by providing the email ID and password you used when registering. After logging in, the dashboard will open in front of you.
From there, please click on the "Open New Account" button.

After clicking this button, you will see the names of several types of trading accounts. From there, click the Try Demo button next to the type of trading account you want to register.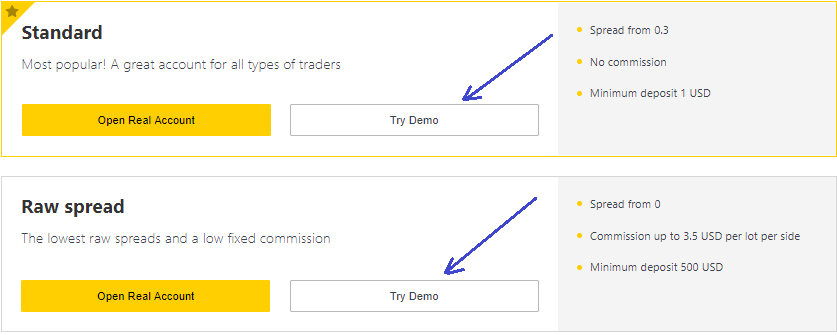 You can register one or more demo accounts if you want. There are no problems or restrictions. For example, if you want to register a practice account and choose the broker's Standard Account, then click on the "Try Demo" button next to "Standard".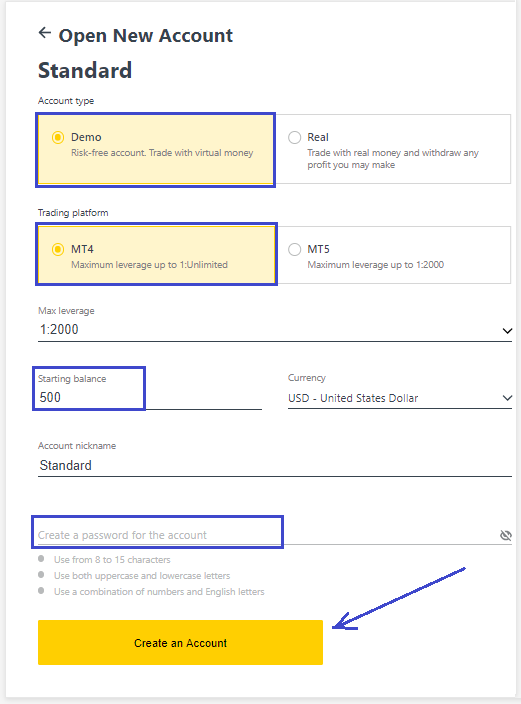 After clicking, a form like the one above will appear. Select trading account types, specify the trading terminal, the amount of leverage, and the amount of the fund that you want to start with.
Your Exness Demo Account is fully ready for trading. Demo account details will be notified to you via email.
Notice here, that we selected
MT4
as the terminal when opening the account. So, this demo account needs to be traded using
Metatrader 4
terminal. If you select
MT5
then you need to trade the account using
Metatrader 5
terminal.
Now download the terminal and log in using the Exness Demo Account ID and password. In order to practice trading, your trading account is fully created. You do not need to submit your documents for verification as it is not necessary for the demo.
But if you want to open a real trading account then please submit your document within 45 days of registration. Detailed account verification steps can be found in this Exness Verification guide.
If you want to know more about this broker, then please have a look at our Website's
Exness Broker
 Section. Also, you can check our 
Exness Broker FAQ
 to know the answers to the most common questions. If you have any feedback or questions regarding this article, please let us know in the comments box below. We will try to assist you.
---
If this article seems useful to your then please click the like button below. You can also share your valuable feedback or ask questions in the below comment section. Also, subscribe to our newsletter for trading-related updates.
---