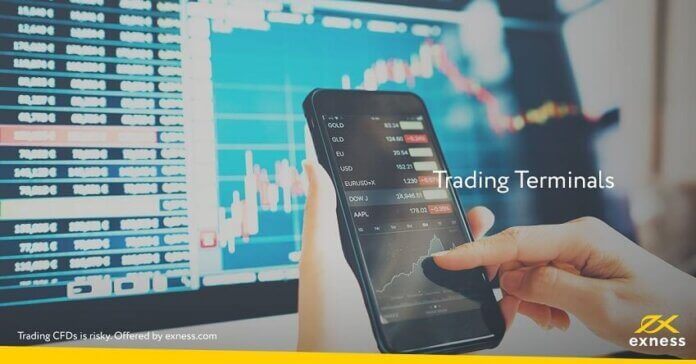 Estimated reading time:
2 min
Exness Trading Terminal – Exness Broker provides several trading terminals for their clients. You can use any of these terminals for trading. For user convenience, they are offering trading terminals for PC or smart devices. In today's article, we go through all of their offered trading terminals that you can use for your trading.
Please download and install the trading terminal as per your requirement.
To use Exness Trading Terminal, you must open a real or demo trading account with this broker. If you have not registered a trading account please visit the official website of the broker – www.exness.com.
Please read our Exness Registration article for a more detailed account registration process.
You can also click on the link for detailed information about the review, verification, regulation, fund deposit, and fund withdrawal processes of this broker.
Which one is better?
Many people have the question of which terminal should be used for real trading. In fact, you can use Exness MT4 or Exness MT5 terminal to trade on a computer. The broker provides the facility to use both these platforms.
Remember, you need to open a trading account for the type of terminal you want to use. For example, if you want to use the MT4 trading platform, you need to register an MT4 real trading account.
Exness Trading Apps
We strongly discourage anyone from trading using a phone or tablet.
The reason is that if you start trading using a phone or any smart device then you will not understand the market chart well. Due to the small screen size of smart devices, the detailed information of the trading chart cannot be seen. As a result, you may misunderstand the chart and accept the wrong entry. As a result, the entry loss will increase. If you want to trade professionally, you must use a computer.
Charts are not easy to understand on small screens, so you won't be able to do a proper analysis. Mobile trading platforms are primarily for receiving market updates, not for trading.
We are able to provide detailed information about Exness Trading Terminal. You can start real or practice trade using any platform at your convenience. If you have any specific information regarding this broker, you can ask in the comment box below. We will try our best to assist you.
If you want to learn more, please have a look at the Exness Broker section. We have also added a FAQ section where you can find the most common answers. Please refer to the Exness FAQ Section to find your answers.
---
If this article seems useful to your then please click the like button below. You can also share your valuable feedback or ask questions in the below comment section. Also, subscribe to our newsletter for trading-related updates.
---