Selecting a broker is an essential process for trading well, but for those who start Forex trading in a whole new situation, it becomes a little more complicated to think about what kind of broker will be good for them. Because in the new situation it is not possible for traders to select a good broker. I have already discussed with you, several brokers. We have tried to present their services, support, and other relevant issues to you. In today's article, we will talk about Instaforex Broker. I'll try to know how to trade this broker, their regulation, quality of service, support system, deposit process, withdrawal process, and more. If you would like to briefly try to present all this broker's information to you, you can get a detailed idea of ​​whether this broker will be good or bad for you. So let's get started.
Some information about InstaForex Broker –
Such a trader might not be able to find the Forex trading or learning and did not hear the name of InstaForex broker. Because, in the case of forex trading, this is the only broker most discussed and the most criticized broker is Instaforex. You may think now, why am I being criticized and criticized? To know the answer correctly, you need to take the time to read the entire article first. Only then will you understand. Just be aware, Instaforex Broker's popularity in the forex market has a lot of reputations as well.
For those who have started Forex trading in a whole new situation or are thinking of starting trading in this broker with a small amount of investment, we recommend this InstaForex. Because this broker offers the minimum deposit facility and offers a variety of bonus amounts for those whose trading balance is low. You can use it to increase your trading balance and also offer you the opportunity to withdraw the conditional bonus.
Instaforex Broker's Regulations –
One of the main conditions for finding a good broker is regulation. That is, the broker is detailed information about which country is regulated and controlled by a regulatory body. You must check when you register an account with a broker, whether the broker is properly regulated and if its regulation is country-specific information.
Instaforex Broker is controlled and operated by the British Virgin Islands. It also has multiple regulations across the country. Below I have presented in this broker all the information circulated in the Regulation.
(BVI FSC) = License number SIBA/L/14/1082s
(RCB), License number 039-11737-100000
(FSC), Registration number IBC22945
Saint Vincent, Registration number IBC24321
In the above Regulation, BVI FSC = the British Virgin Islands; RCB = Russia Central Ban, FSC = Saint Vincent; Regulated by. That is, by regulation, this broker is completely safe and you can start the real trade with this broker without fear.
InstaForex Broker Deposit and Withdrawal –
Brokers have different types of funds for deposits or withdrawals which vary across countries. That is, this broker from Bangladesh offers the benefit of depositing funds in various ways.
This broker offers the advantage of using multiple payment mediums for fund deposits or investments. That is, you can easily deposit funds from a bank, credit card, online payment system, account to account transfer. However, we suggest that Neteller and Skrill are the easiest way to deposit funds in a broker. Because there is no facility to deposit funds directly from a bank or credit card from Bangladesh. This is why these two are the most popular means of depositing funds in a broker from Bangladesh. You can get the benefit of depositing funds using any one of them if you wish. Or you can deposit funds using two mediums if you want. But in this case, be aware that the way you deposit funds, you must use the same means when raising funds. If you have deposited the funds through two means, then you have to use two mediums for withdrawal.
InstaForex Broker Account Registration –
We have already presented some important information about this broker and hope that this information will help you in selecting the broker. Now is the time to register an account with this broker, that is, to give you an idea of how to open an account with this broker. To register an account, please enter your information in the registration form below and click on the "Open an Account" button. Only then can you successfully register a trading account. Or if you want, visit the official website of InstaForex – www.instaforex.com.
In the form above, provide your full name, email id, and phone number and click on the "Open An Account" button below. A real trading account has been registered in your name. Now, check your email, all the details of the trading account have been emailed to you.
Hopefully, you understand correctly the whole process of registering an account. If you still encounter any problems creating an account, please let us know by email or phone. We will try to help you properly.
Instaforex Broker Account Verification –
After registering a trading account, you must first fully verify it. Account verification is not mandatory in InstaForex broker. That is, you can start trading without verification. No problem here. However, we suggest that the verification is better. Because, the broker may ask for this information at any time from you. If you cannot pay them then the broker will also have the ability to block the account.
The process of account verification is very simple but still many people ask us different questions. Below are the details of account verification for your benefit –
There are three steps to account verification. To do this, first login to your broker account and after logging in the client cabinet you will see the following picture. Click to login to Cabinet – www.instaforex.com. After clicking, login with your trading ID and password provided. Then a new page will appear in front of you which looks a lot like the picture below.
Or click on Account Settings >> Verify Account button from the side to see many options. This time a new page will be opened before you submit new documents.
Notice, here you will see two separate houses where you have to upload the documents. Two types of information will be required to submit documents.
Passport or NID and,
Copy of Bank Statement.
In each of the two cells, we will verify the identity in the first level Verification. For this we will need a passport or NID. And in the second level (Second Level Verification), we will upload a colored copy of the bank statement to verify the address.
You can provide any of the following information documents to verify the address. However, keep in mind that the information below must be in your name.
Utility bills (gas, water, electricity, phone bills) or,
Copies of bank statements or,
Tax copies or,
House rental paper.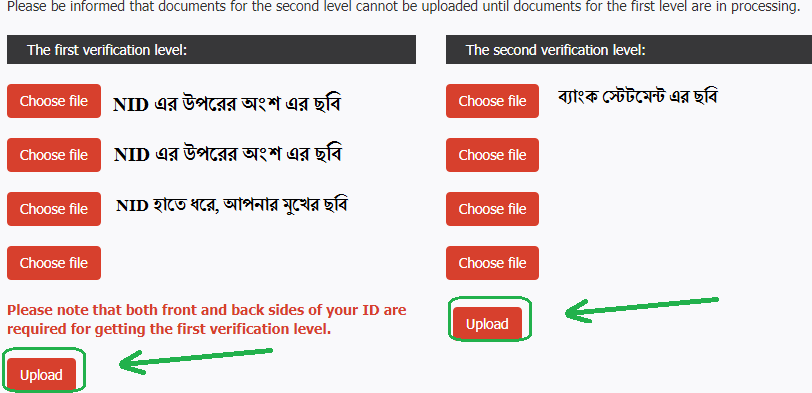 Note: Status will be emailed to you within 24 hours of submitting the information correctly. If for any reason your information is considered invalid, information will be provided via email. Please read the Instaforex Verification article in detail for the detailed verification process.
Instaforex Broker Trading Account Type –
InstaForex Broker is basically Minolot's broker. For those who are not familiar with the term lot, let me make it easy, if you accept entry into the trade in this broker, there will be a profit or loss of $ 1 as peeps for every 1 lot entry. On the other hand, the standard lot's broker, the profit or loss will be equal to $ 10 per movement of pips for entry of the lot.
So, surely the profit and loss of both brokers in this broker is much less than the other brokers. For that reason, we always recommend Instaforex Broker for those who want to start Forex trading in a completely new situation.
Instaforex Broker Support System –
This broker has a very powerful support system for providing any kind of trading support or complaint through which you can get services from the broker as per your requirement. They have 24/5 live chat, email and phone support. So, in InstaForex broker, if you need any trading assistance, you can contact them or inform us via email or message. We will endeavor to assist in all manner of broker.
---
If this article seems useful to your then please click the like button below. You can also share your valuable feedback or ask questions in the below comment section. Also, subscribe to our newsletter for trading-related updates.
---